Oklahomans for Excellence in Science Education, Inc. is a non-profit educational organization that promotes the education of the public about the methods and values of science and advocates excellence in the science curriculum. Activities include participation in educational and scientific organization conferences, workshops for science teachers, operation of a speakers' bureau, and related activities.
The formation of OESE was prompted by the attempts in the Oklahoma State Textbook Committee in 1999 to diminish the teaching of evolution by the introduction of creationist textbook disclaimers to be inserted into any textbook used in public schools that discussed evolution. There have been bills introduced almost every year since 1999 for legislation that would allow teaching creationism in science courses; OESE has opposed all such attempts.
---
Join OESE
OESE is seeking members. Memberships are available for $10. Please print and fill out the OESE membership application and mail to the address indicated on the form. Tax-deductable donations are also welcomed. Further info in the OESE brochure.
Climate change
Recognizing the increased attention climate change education has received in recent years, OESE has added an emphasis on the support of the teaching of climate science in public schools. To that end, we have added links to climate change and climate change denial sites. Many of the recent bills that have attacked the teaching of evolution in the public schools have also included attacks on climate science. We have also added a section on climate and earth science on our teaching resources page.
---
NEWS
Anti-science legislation in 2016 Oklahoma Legislature
Update: The 2nd Regular Session of the 55th Legislature adjourned Sine Die at 5:00 p.m. on Friday, May 27, 2016. No anit-science legislation was passed.
The two anti-science bills introduced for the 2016 Oklahoma legislative session are dead. Neither SB 1322 nor HB 3045 were passed out of their respective committees before the February 26 deadline and are marked as dormant on the Legislature web site. Thanks to all who sent messages to the committees. Numbers DO count.
SB 1322 by Josh Brecheen, the Oklahoma Science Education Act. The bill says public school officials shall "endeavor to assist teachers to find effective ways to present the science curriculum as it addresses scientific controversies. Teachers shall be permitted to help students understand, analyze, critique and review in an objective manner the scientific strengths and scientific weaknesses of existing scientific theories covered in the course being taught." This is standard creationist language to allow anti-science information into the classroom. The bill is identical to SB 665 introduced last year which was never heard in the Senate Education Committee. More info at NCSE.
HB 3045 by Sally Kern, the Scientific Education and Academic Freedom Act. If enacted, the bill would require state and local educational authorities to "assist teachers to find more effective ways to present the science curriculum where it addresses scientific controversies" and permit teachers to "help students understand, analyze, critique, and review in an objective manner the scientific strengths and scientific weaknesses of existing scientific theories pertinent to the course being taught," prohibiting administrators from interfering. As introduced, the bill specifically mentions "biological evolution, the chemical origins of life, global warming, and human cloning" as subjects which "some teachers may be unsure" about how to teach. The bill is virtually identical to other recent bills supported by Kern. More info at NCSE. The bill was assigned to the House Rules Committee.
The bills have gathered quite a bit of national attention from Ars Technica, BoingBoing, and Slate. The national attention has even prompted a response from the Discovery Institute. Local bloggers, The Lost Ogle and Okie Funk have also commented.
THE EVOLUTION OF ANTIEVOLUTION POLICIES AFTER KITZMILLER V. DOVER.
In a new paper forthcoming in Science, Nick Matzke shows that even though creationism is getting stealthier in the wake of legal defeats such as Kitzmiller v. Dover, techniques from modern evolutionary biology reveal how creationist legislation is evolving. Using data collected by NCSE and state-of-the-art phylogenetic analysis, Matzke constructed a phylogenetic tree of seventy-five distinct antievolution bills and policies, reconstructing their genealogical relationships with a high degree of confidence.
"The Evolution of Antievolution Policies after Kitzmiller v. Dover" identifies the common ancestor of the bills as a series of bills proposed in Alabama in 2004 and 2005. It also discerns two main lineages, the "academic freedom act" lineage and the "science education act" lineage, which resulted when "academic freedom acts" began to target not only evolution but also global warming and human cloning. The latter lineage thrived, with the passage of such bills in Louisiana in 2008 and Tennessee in 2012. More coverage at Panda's Thumb, Sensuous Curmudgeon, and Ars Technica. Here is the easiest to read tree from Ars Technica: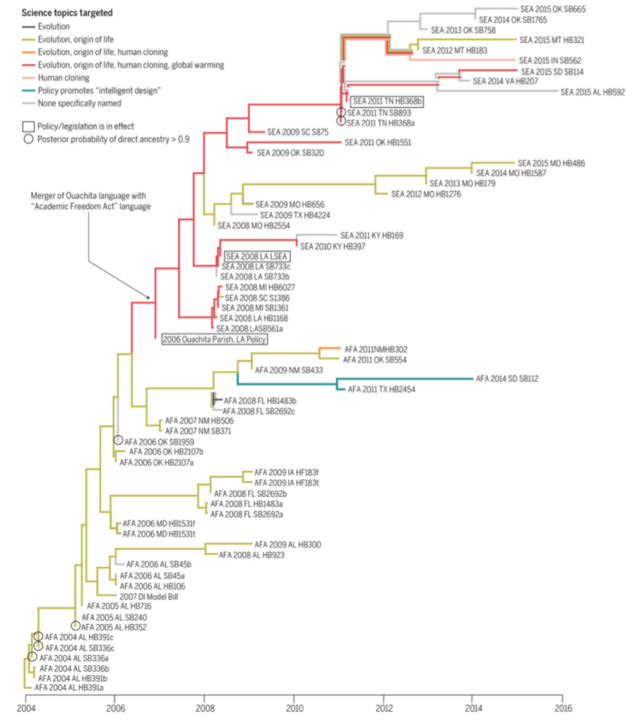 THE 8 BIGGEST CLIMATE STORYLINES OF 2015
From Climate Central, the eight biggest climate stories including 2015 as hottest year, and the Paris climate agreement

Some recent blog posts from OESE President Stan Rice
A Creation Story of the Yoruba People
Bible Faith and Bible Understanding (Bible believers don't know any more about the Bible than non-believers)
Intelligent Design as Explained by Sock Puppets

OESE Board Meeting November 1
OESE annual Board meeting will be at 2:00 in the conference room at the Oklahoma Biological Survey on the OU campus on Sunday November 1. The Survey is on Chesapeake Street, which is to the east of Jenkins Ave. on the South Campus. All members are invited. Only Board members can vote.

NCSE Grad Canyon Teacher Scholars
The National Center for Science Education is pleased to accept applications for its second class of Grand Canyon Teacher Scholars. Lucky teachers will be given an all-expenses-paid seat on NCSE's annual Grand Canyon expedition, an eight-day voyage through some of the world's greatest geological wonders. It's an opportunity of a lifetime, giving deserving teachers a hard-earned vacation and an incomparable learning experience. Teachers are encouraged to apply now (the deadline is January 5, 2016), and anyone interesting in helping teachers have this experience can contribute to the scholarship fund. More info at the NCSE site.

Presidential Award for Excellence in Mathematics and Science Teaching
OESE is pleased to congratulate Mark Thomas, of Stillwater High School and Sarah Vann, of Owasso Eighth Grade Center, this year's Oklahoma winners of the Presidential Award for Excellence in Mathematics and Science Teaching. These are awarded annually to outstanding K-12 science and mathematics teachers from across the country. The winners are selected by a panel of distinguished scientists, mathematicians and educators following an initial selection process done at the state level. Winners of this Presidential honor receive a $10,000 award from the National Science Foundation to be used at their discretion. Great job!

Oklahoma's first teacher climate summit set for July 28-29
In-depth climate science curriculum and activities will be showcased for Oklahoma's classroom teachers at the state's first teacher climate summit. Applications are being accepted for the summit, planned July 28-29 at the National Weather Center in Norman. More at newsok.com.

NCSE Teacher Network announced
NCSE is pleased to announce the debut of the NCSE Teacher Network. Are you teaching climate change or evolution in your K-12 classroom? Are you interested in finding quality materials on these topics to use? Are you wondering how to deal with challenges? Join the NCSE Teacher Network! More info here.

Oklahoma Anti-science Legislation 2015
Update: The legislature adjourned on May 22. No anti-science bills passed this year. Thanks again to all who contacted legislator's about this year's bills.
TWO OKLAHOMA ANTI-SCIENCE BILLS ARE DEAD!
SB665 (Sen. Breechen), "Oklahoma Science Education Act" was not heard by the deadline for Senate bills to be considered by committees. This bill, similar to ones by Brecheen in the past and would allow back-door promotion of religiously motivated, anti-science material into Oklahoma science classes. It would encourage science teachers with idiosyncratic opinions to teach anything they pleased. Brecheen has introduced this bill (with minor changes) every year since 2011. Breechen's motivation was clearly stated by his comments in the media: "I have introduced legislation requiring every publicly funded Oklahoma school to tech the debate of creation vs. evolution using the known science, even that which conflicts with Darwin's religion. This Senator, who was an agriculture major, knows how to spread manure. He is likely to continue to introduce such anti-science bills.
HB1537 (EP. Thomson) also was not heard by the House Common Education Committee before the deadone. This bill would have removed the new Oklahoma Science Teaching Standards that survived attempts to remove them during the last hours of the last legislative session. The bill would have required development of new standards, costing years of work and high costs to taxpayers. The standards were based on the Next Generation Science Standards (NGSS) developed by 24 states (including participation by Oklahoma educators) and are NOT a Federal program. The NGSS were slightly modified to meet Oklahoma needs. Governor Fallin instructed the Department of Education to put the standards into effect shortly after attempts to kill them failed. The major opposition came from the word 'climate' in the standards!

Another great video
OESE Board member Kevin Kloessel is featured in another video from Dan Bewley at Science is OK. Also filmed at the teachers' workshop.

This Scientist is OK -- Dr. Rich Broughton
OESE President-elect (and former President) Richard Broughton is featured in this interview by Dan Bewley at Science is OK. This interview was conducted at the teachers' workshop.

Free online course on Human Evolution
OESE board member Cecil Lewis is teaching an open course again on "The Practical Importance of Human Evolution" (see flyer.
This is an OU "Janux" course. And It's FREE to anyone and fully online. https://janux.ou.edu/course.anth4970-spring2015.html

Why you should join OESE
Check out this The Science is OK blog post highlighting OESE with a video of an interview with OESE founder Dr. Vic Hutchison.

Special Symposium at Oklahoma Academy of Science meeting
OESE is a sponser of Update on Science-Based Issues in Oklahoma, a special symposium at the November 7, Oklahoma Academy of Science meeting at Northeastern State University, Broken Arrow Campus. Registration for the meeting ends Friday, October 31.

Congratulations to Oklahoma Science Teacher Association Award Winners
OESE is pleased to congratulate these 2014 award winners from the OSTA:
The Jack Renner Award for Service to Science Education in Oklahoma – Dr. Bruce Weems, East Central University.
Dr. Weems has worked at ECU since 1972 where he is a physics professor and dean. He is recognized also for his work with the Oklahoma State Science & Engineering Fair (a.k.a. OSSEF).
High School Science Teacher – Amy Clardy, Haworth High School
Over the last five years, Amy has been a member of the National Science Teacher Association as well as a member of the Oklahoma Science Teacher Association and has written and awarded funding from the Fund for Teachers to attend a professional development workshop in San Antonio, the Dream Team grant with the K20 center, and a KIPR (BOTBALL) grant to enable her students to build and write code for their very first school robot. Amy holds with a Masters in Educational Leadership.
Middle School Teacher – Dr. Geary Crofford, Woodall School, Tahlequah
Dr. Crofford is currently completing an M.E. in Teaching and pursuing National Board Certification, was designated a Cherokee Scholar in 2014 by the Oklahoma Foundation for Excellence and a DaVinci/Martin Scholar in 2010. He encourages his students to see themselves in STEM majors and careers and has dedicated himself especially to members of his tribe, the Cherokee Nation.
Elementary School Teacher – Megan Veldhuizen. Woodland Hills Elementary, Lawton
Megan teacher a transitional 1st grade classroom at Woodland Hills who's philosophy is that all children can do science and that science is just as important as the other subjects. She teaches young children lab safety and then lets them do actual labs, writing grants to fund projects in her classroom. She has taken on leadership positions in her school and is part of OkSci Leadership.

Excellent Evolution video
Check out this excellent video explaining the evidence for evolution from Stated Clearly highlighting whale evolution.

Second Teachers' Workshop On Climate Change & Variability.
The workshop was held at the University of Oklahoma Biological Station (OUBS) on Lake Texoma from Friday evening, 26 September until Sunday afternoon, 28 September and was co-sponsored by Oklahomans for Excellence in Science Education (OESE) and the Oklahoma Climatological Survey. The latter group supplied most of the instructors. Topics included current climate science, inquiry-based learning, state curriculum and classroom issues.

Science is OK produced this nice video featuring the workshop.

Stan Rice, president-elect of OESE, did "live blog" from the workshop. You may check his blog http://honest-ab.blogspot.com

Special thanks to the DELTA Foundation for funding the workshop.

See the events section for photos from the workshop.

Pie-chart useful in communicating scientific consensus on Climate Change
A recent paper covered by Skeptical Science indicates that a pie chart can be effective in communicating the scientific consensus on climate change.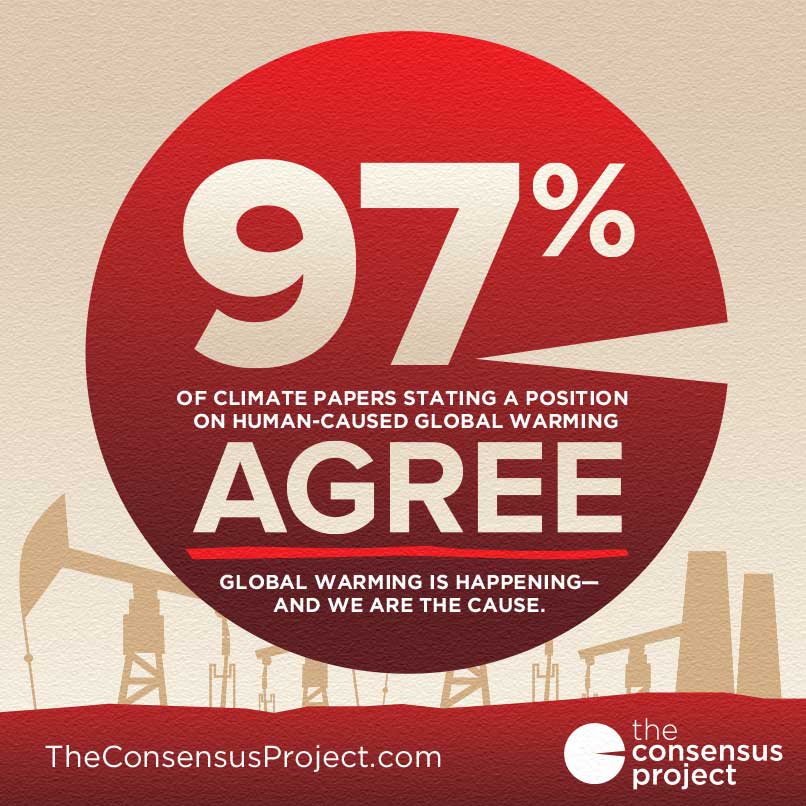 Governor Fallin approves the state's adoption of the new Oklahoma Academic Skills for Science
On June 19, 2014, Governor Fallin approved the Oklahoma Academic Skills for Science. The state board of education unanimously voted to adopt the new standards on March 25, 2014. The new Oklahoma Academic Standards for Science are the product of more than a year of work by a committee of more than sixty members. The standards are widely regarded as a vast improvement on their predecessors, which received a grade of F in the Fordham Institute's 2012 study of state science standards. More info at NCSE. Thank you, Governor.

Congratulations to OESE board members
Two OESE board members were honored at the Oklahoma Science Teachers Association (OSTA) Awards Recognition reception on Friday, November 1st at the OERB offices near downtown Oklahoma City. Dr. Julie Angle was named OSTA's Outstanding College/University Science Teacher and Deborah Hill was received her award as Oklahoma Science Teacher of the Year from the National Association of Biology Teachers.
In addition, Bethany Lorenz was elected President-elect of the Oklahoma Science Teachers Association and Deborah Hill was elected High School Director for OSTA.
Thank you, DELTA Foundation
We are pleased to announce that the DELTA Foundation has again granted OESE $ 16,339 for two years (2014, 2015) of teacher workshops on climate change and variability to be offered over a weekend at the University of Oklahoma Biological Station. Earlier support from this family foundation was very important in allowing OESE to offer workshops for science teachers and helped make them highly successful. The Board of Governors of OESE expresses our gratitude for this important support that will help advance science education of high school teachers.
The workshop this fall on Climate Change and Variability at the Biological Station attracted many applicants. To accommodate the demand the original limit of 30 was increased to about 38. The workshop this year is supported by an NSF grant to Dr. Cecil Lewis, an OU anthropologist. This is the last year of the NSF grant support. Thus the DELTA grant allows a continuation of the workshops.
Darwin videos on YouTube
Dr. Stan Rice, faculty member at Southeastern Oklahoma State and a Board member of OESE is producing a series of YouTube videos where he portrays Darwin on various topics.

---
EVENTS
ANOTHER SUCCESSFUL OESE TEACHERS WORKSHOP
OESE held its second workshop for high school teachers on teaching climate change at the University Biological Station on Lake Texoma, 26-28 September, 2014. A good time was had by all.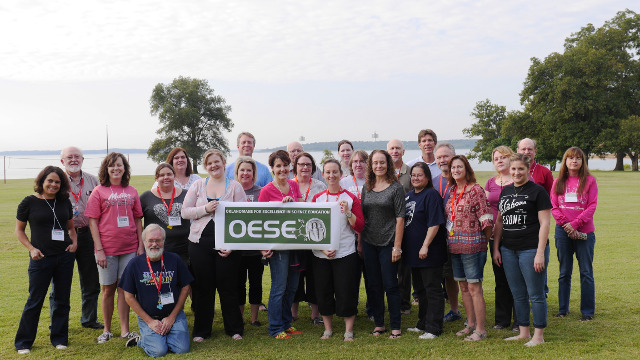 Group photo.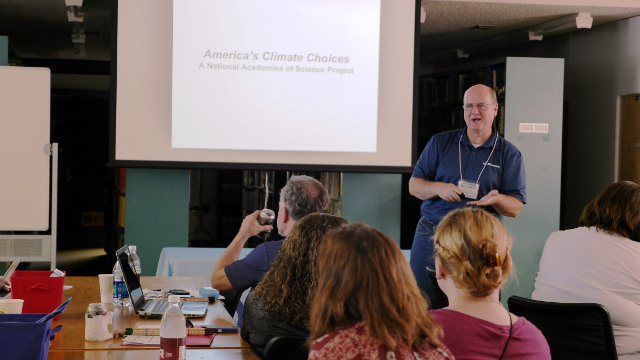 Dr. Kevin Kloesel discussing climate varability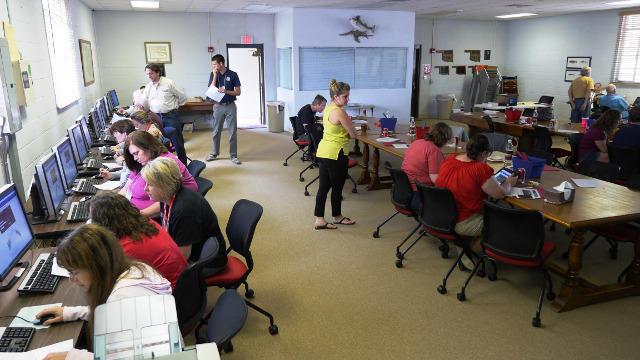 Class conducting computer exercise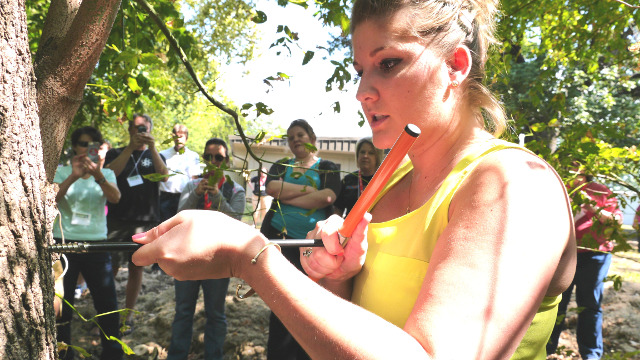 Monica Demming demonstrating tree core methods



Analyzing tree core data for weather changes



Dr. Stan Rice lecture on tree budding and climate change
---
When your email program starts up, enter subscribe in the body of the message, then send the email.

The OKEVOL-L List Serve was established to alert and inform all interested parties in the evolution/creationism debate in Oklahoma. Messages will be sent only with approval of the list managers so that traffic will be kept to a minimum. Information on proposed legislative actions dealing with attempts to place creationist materials into public schools, important scheduled public meetings or debates on evolution/creationism, and any significant other news items dealing with these issues or related items on attempts at inappropriate or unconstitutional censorship will be sent to subscribers.
Click here to unsubscribe from the list serve.
---

Clergy Letter Project: All clergy members are encouraged to go to this link to sign the nationwide outpouring of support for teaching evolution. For too long, the misperception that science and religion are inevitably in conflict has created unnecessary division and conflict concerning the teaching of evolution. The project is also described at the link.
OESE Joins Coalition on the Public Understanding of Science.
Oklahomans for Excellence in Science Education (OESE) has joined the Coalition on the Public Understanding of Science (COPUS), organized coordinate efforts to improve public outreach and science education. COPUS is a grassroots effort that builds connections that support a better understanding of the nature of science and its value to society. COPUS is built around three values: community, celebration, and promotion.

COMMUNITY:
We are passionate people promoting good science. By working together as a community, we can build on the cumulative energies, strengths, and perspectives of our members.

CELEBRATION:
Celebrations provide opportunities to reflect on the positive contributions of science to society - besides, science is fun and well worth celebrating!

PROMOTION:
Science needs good promotion. COPUS facilitates dialogue and shares resources through meaningful person-to-person interactions, making it easier to learn about how science works and why it matters to society.